Spała
Our home port is this small summer resort - Spała. Located in the Łódzkie Voivodeship.The vast majority our courses takes place here. Additionally, from time to time we organize courses in major Polish cities.
Why Spała?
What distinguishes this city from thousands of others?
Where to stay, where to eat and where to have fun?
You can read about it all down below.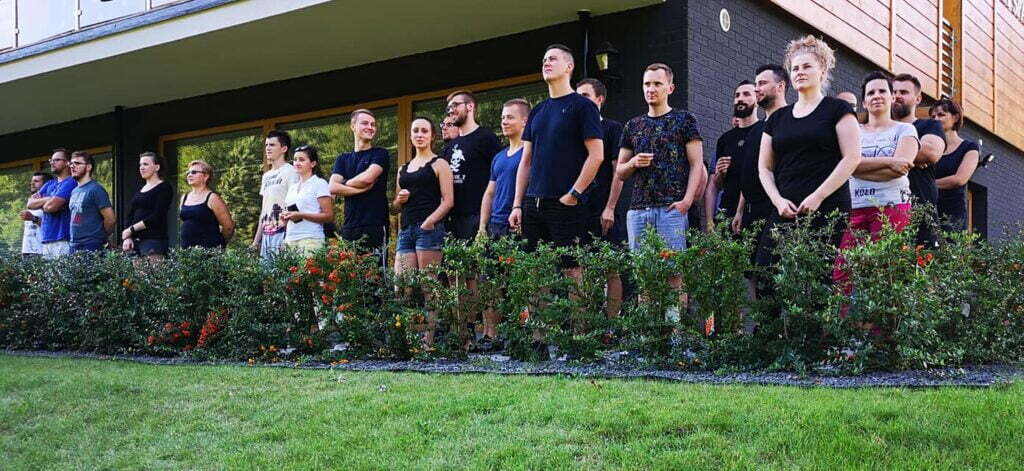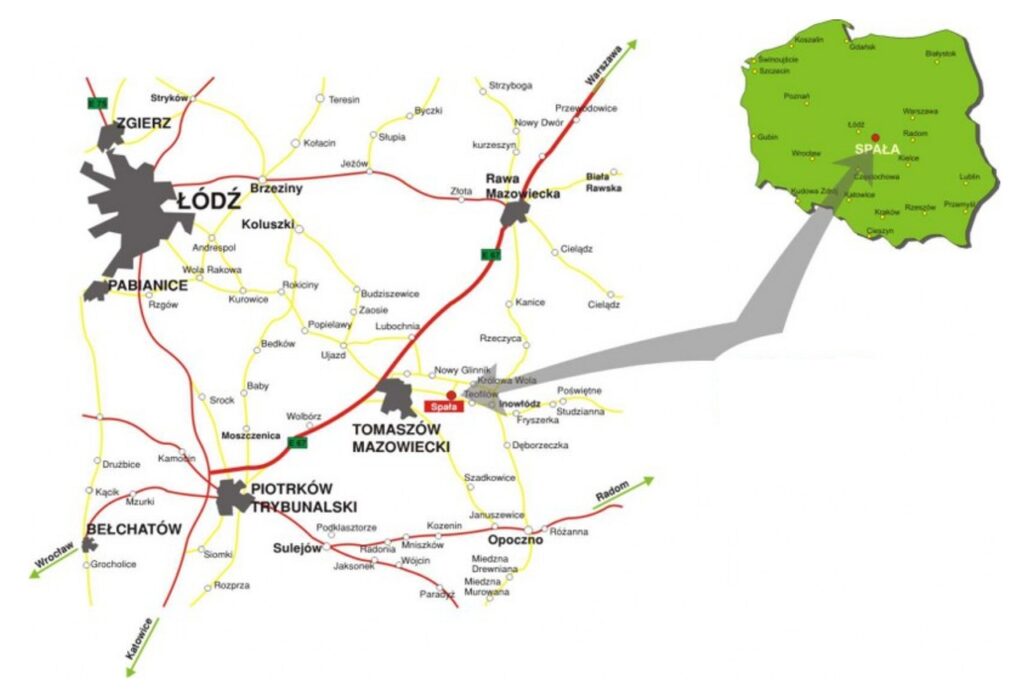 Why Spała?
When looking for Spała on the map of Poland, we will find a dot that marks villages. a small town (about 400 inhabitants) in the Inowłódz commune, in the Tomaszów district, in the Łódzkie Voivodeship. Spała's central location is noteworthy and that was the original reason for organizing courses here. Simply - everyone has the same ... far from Spała.
Another advantage of Spała is its holiday character. Although there are no attractions typical of fashionable resorts, the town has been hosting thousands of tourists for years, including political elites and even crowned heads! Thanks to this, Spała has a very well-developed tourist infrastructure. Here you will find exclusive hotels, comfortable inns and comfortable holiday resorts. There are also refined restaurants, taverns specializing in Old Polish cuisine and pleasant pubs offering pizza or homemade hamburgers.
Spała captivates with its beauty. It is a well-kept, green and charming town. Surrounded by a forest, with the winding Pilica and the Gać stream, forming a small pond in the center of the settlement, where we can find a historic turbine and ... a pleasant beer garden. Anyone who has visited Spała at least once confirms that the town has some magic. The atmosphere, charm and energy of this place make visitors come back again and again. Come over and you'll find out...
Zdjęcia dzięki uprzejmości www.spala.pl
Useful informations
How to get to Spała?
Spała położona jest w województwie łódzkim, 10 km na wschód od Tomaszowa Mazowieckiego, przy drodze krajowej nr 48. Do miejscowości najlepiej dojechać samochodem. Na miejscu, zwłaszcza w pogodne weekendy, dość trudno jest zaparkować, ale ponieważ wszędzie jest blisko, to jak już znajdziesz miejsce, to się z niego nie ruszaj 🙂 Można też pokusić się o dojazd PKP. Wtedy należy dotrzeć pociągiem do Tomaszowa Mazowieckiego, a do samej Spały najwygodniej taksówką (ok. 40 zł).
TAXI AA, tel. 730 668 884 or 530 919 956, with code "FRSc" you will receive special discount. 
Where to sleep?
We organize courses in facilities that usually also offer accommodation and meals. The most popular choices by participants of our courses include:
♥ Pensjonat Karczma Spalska and SportRooms, belonging to the same owner. We recommend it because of the high standard and great breakfasts. Reservations: Karczma Spalska
♥ Zacisze Resort, belonging to the NaturaTour network. We recommend it due to its location in the forest and a frequent place of our integration meetings. Reservations: Ośrodek Zacisze
♥ Savoy Conference and Recreation Centre. Reservations: Ośrodek Savoy Spała
♥ Hotel Mościcki - a high-class four-star hotel for demanding guests. It offers comfortable rooms and is famous for its excellent cuisine. Reservations: Mościcki
♥ Carski Dwór - is a separate facility belonging to the Mościcki hotel. Here you can really feel like an aristocrat. Reservations: Mościcki
Dla naszych kursantów udostępniamy na maila hasła zniżkowe do niektórych miejsc noclegowych.
Where to eat?
In addition to the possibility of trying the gastronomy at the place of accommodation, the following are worth recommending in Spała:
♥ Olimpijska Restaurant, offering great pizza, excellent pasta and tasty salads. Details: Olimpijska
♥ Carska Wieża, where they serve Italian cuisine and delicious home-made hamburgers, including the appetizing vege option. Check: Carska Wieża
♥ Restaurant Rzemiosło Smaku. Check on Facebook
♥ Zajazd Spalski, specializing in Polish cuisine, with several interesting vegetarian dishes on the menu. Look: Zajazd Spalski
♥ The restaurant of the Mościcki hotel offers exquisite dishes. Lovers of meat dishes will be especially captivated by tartare and veal shank. Check: Mościcki
Where to drink?
Wszystkie wymienione wcześniej obiekty i lokale oferują rzecz jasna bogaty wybór napojów gorących i zimnych, w tym także rozrywkowych 🙂 Oprócz nich na uwagę zasługują:
♥ Turbina is a summer garden where you will spend time in a pleasant atmosphere. Depending on your needs, you can cool down or warm up here. Additionally, grilled dishes. take a look: Turbina
♥ Pod Żubrem, a restaurant and cafe decorated in a tsarist style with a pleasant garden. The restaurant boasts a large collection of hunting trophies… Check: Pod Żubrem
Where to shop?
♥ There is one grocery store in Spała, also offering a wide selection of drinks with or without %. The store is located at Piłsudskiego 10 street. It is open in the winter season from 7:00 to 19:00 (on Sundays from 9:00 to 17:00), and in the summer season from 6:30 to 21:00 (on Sundays from 9:00 to 17:00).
♥ Moya gas station at Wojciechowskiego 2 street, open daily from 5:30 to 22:30, and on Fridays and Saturdays until 24:00. Hot dogs, coffee and a selection of drinks and snacks.
How to spend free time?
We make sure that there is no such thing as free time during our trainings. Classes last from 9:00 to 18:00 (on the last day until 14:00), and in the evening there are optional development workshops (from 18:30 to 22:00). However, if someone finds a moment, the most popular forms of spending time include:
♥ Winter swimming in Pilica. Recently very popular, as well as pleasant and healthy! In order to gather a group of enthusiasts, it's best to simply shout: Hey! who's going to winter swim?
♥ Walks around Spała and the surrounding area. Some interesting walking routes are described in detail here: Sightseeing
♥ A nice option for warmer days is canoeing on Pilica. All information can be found here: Canoes
Come to Spała!